Police had wrong target – Instead of Travis The Chimp, aim for Chris Brown: Scot-Free as Barbadian Beauty Bruised and Battered
What a horrible birthday for Rihanna, the Bajan Reporter hopes she pulls through and learns karate – Worse, it seems there are a few idiots out there now taking up for Chris Brown, some US discussion forums have remarks like why doesn't Rihanna go back to Barbados selling mangoes? These are probably similar kinds of a'holes who feel Barbados and Bahamas are counties in Jamaica!
If you doubt about a reverse tide of sentiment, check this stupid video which equates the Infamous Dispute as if it were a video-game…
Even more, what accent does this ho have in supposedly imitating a Bajan? It en't Jamaican nor Trini nor any discernible Caribbean dialect, Sebastian the crab from Little Mermaid sounds more authentic! They try to cover themselves saying Domestic Violence is not funny, so then why do it? What can justify jokes for THIS?
Unfortunately the release of this photo can create a mistrial before it happens, since this can be said to influence a jury. Maybe interests with Chris Brown pushed for the leak so as to scotch a trial? Like Barbados Free Press, I doubt that Brown would ever return here – there are also allegations Ri-Ri's Land Rover was destroyed by the punk in a fit of jealousy… Get over it creep, she's more talented and better looking than you – a brutish ape probably has better manners!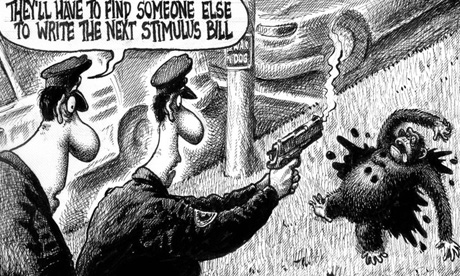 Makes you wish the LA police shot him instead of Travis, but then those guys are only now revamping their image, maybe if the NY Post made that kind of joke towards Chris Brown instead of pointing at Barack Obama, then they would not be in so much hot water?
Rihanna meanwhile, maintains her own poise and dignity, there's a brief release via her rep according to Hollyscoop, but now we learn why the photo was leaked, apparently it was like 2 years' salary for whoever let the picture slip;-
"

She wants to assure her fans that she remains strong, is doing well, and deeply appreciates the outpouring of support she has received during this difficult time

."



Meanwhile,

mediabuffet.com

is reporting that TMZ paid $62,500.00 for the

leaked photo

of a battered and bruised Rihanna. That's double the salary of the person suspected of leaking the picture.



CALLING FOR GOD: IS HE LISTENING?
Of course, Brown does what every sinner does when knee deep in the hoopla – he calls on God?
"Words cannot begin to express how sorry and saddened I am over what transpired," he said.



"I am seeking the counseling of my pastor, my mother and other loved ones and I am committed, with God's help, to emerging a better person."



Jimmy Swaggart, Bill Clinton, even the Hulk's father (yes, that character was a victim of abuse – no wonder he changed into a monster) have all invoked the Holy to dodge the Public Judge/Jury/Executioner that is human nature… As you see, not all who take this route are necessarily violent.
However, violent or not – using God to attempt and gain free passage from Public Scrutiny is not a "Get Out Of Jail" card! Nor should it absolve anyone who uses violence in circumstances other than self-defense, I mean come on – Rihanna is tall, but can you really see her beating the crap out of Brown? Is he not trained in Martial Arts? Possess a history of violence? March 5 is arraignment, they better make sure to see how many Bajans are there with bulges under their winter clothing, LOL!
HYPOCRISY OR HIP-HOP/RISY?
As far as I am concerned, Jay-Z has brought it all on himself… He may have helped to discover Rihanna, he is purported to have vowed that Chris Brown is a dead man walking, but did Jay-Z not originate from the culture which advocated the slapping of women and referring to them as bitches and hoes?
This News-Blog has already examined Jay-Z's violent intentions, yet he slipped on the radar to approve Brown as a beau for Ri-Ri, now he has to learn to deal with the chickens coming home to roost!