44th Leader of USA safely installed as President; Summit of Americas in Trinidad on Barack Obama's immediate agenda
I was at my job yesterday not doing work.
It was 1:00 pm and not my Manager bellowing for me nor wild horses could move me from the TV set in the lobby! Half of the accounts department, my boss's secretary, the executive officer, the Deputy Manager's secretary, some engineers, the messenger plus folk from Natural Gas were welded to CNN's coverage.
I even got a call and was almost rude to the person and forced myself not to slap down the handset! I looked at the duty receptionist and told her if anyone else calls, say I have been kidnapped by aliens… It was understandable, after all, we were watching history – the way overdue inception of Barack H. Obama as President of the United States, I still prefer the UK's and Caribbean's method of changing regimes…

Elections called, clean out office, if you win? Re-install personal/professional effects, but if you lose? You have already made way for new occupant! Time elapsed for transition? One day, if so much!
I was going to snap a photo of us watching but then the most dreaded thing happened to a shutterbug…
* BATTERIES EXHAUSTED*
I was not near my reserve pack and I was not about to desert my post! Sigh!!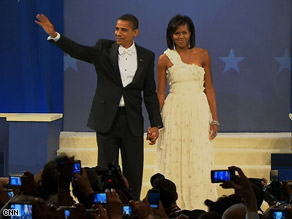 When Mr Obama finally took his oath and he was confirmed, I think I deafened everyone with my cheers "Yea, Yea – YAAY!!!" My throat was slightly raw for the rest of the day…
Although I have not lived in the 'States for decades and actually have lived in Barbados more than anywhere else in my life so far, I still feel a tie and when Barack gave his speech it was very difficult for me not bawl like a baby at the sheer majesty and simple power of his words and style of delivery. If he was not President, he could do voiceovers for commercials and still make a mint! Here's some of what he said;-
M

y fellow citizens:

I stand here today humbled by the task before us, grateful for the trust you have bestowed, mindful of the sacrifices borne by our ancestors.


I thank President Bush for his service to our nation, as well as the generosity and cooperation he has shown throughout this transition. Forty-four Americans have now taken the presidential oath.


The words have been spoken during rising tides of prosperity and the still waters of peace. Yet, every so often the oath is taken amidst gathering clouds and raging storms.


At these moments, America has carried on not simply because of the skill or vision of those in high office, but because We the People have remained faithful to the ideals of our forebears, and true to our founding documents.

So it has been. So it must be with this generation of Americans.

That we are in the midst of crisis is now well understood.


Our nation is at war, against a far-reaching network of violence and hatred. Our economy is badly weakened, a consequence of greed and irresponsibility on the part of some, but also our collective failure to make hard choices and prepare the nation for a new age. Homes have been lost; jobs shed; businesses shuttered.
Our health care is too costly; our schools fail too many; and each day brings further evidence that the ways we use energy strengthen our adversaries and threaten our planet.

These are the indicators of crisis, subject to data and statistics.


Less measurable but no less profound is a sapping of confidence across our land – a nagging fear that America's decline is inevitable, and that the next generation must lower its sights.

Today I say to you that the challenges we face are real. They are serious and they are many. They will not be met easily or in a short span of time. But know this, America – they will be met. On this day, we gather because we have chosen hope over fear, unity of purpose over conflict and discord. On this day, we come to proclaim an end to the petty grievances and false promises, the recriminations and worn out dogmas, that for far too long have strangled our politics.

We remain a young nation, but in the words of Scripture, the time has come to set aside childish things. The time has come to reaffirm our enduring spirit; to choose our better history; to carry forward that precious gift, that noble idea, passed on from generation to generation: the God-given promise that all are equal, all are free, and all deserve a chance to pursue their full measure of happiness.




In reaffirming the greatness of our nation, we understand that greatness is never a given. It must be earned. Our journey has never been one of short-cuts or settling for less. It has not been the path for the faint-hearted – for those who prefer leisure over work, or seek only the pleasures of riches and fame. Rather, it has been the risk-takers, the doers, the makers of things – some celebrated but more often men and women obscure in their labor, who have carried us up the long, rugged path towards prosperity and freedom.

For us, they packed up their few worldly possessions and traveled across oceans in search of a new life.

For us, they toiled in sweatshops and settled the West; endured the lash of the whip and plowed the hard earth.

For us, they fought and died, in places like Concord and Gettysburg; Normandy and Khe Sahn.


Time and again these men and women struggled and sacrificed and worked till their hands were raw so that we might live a better life. They saw America as bigger than the sum of our individual ambitions; greater than all the differences of birth or wealth or faction.

T

his is the journey we continue today. We remain the most prosperous, powerful nation on Earth. Our workers are no less productive than when this crisis began. Our minds are no less inventive, our goods and services no less needed than they were last week or last month or last year. Our capacity remains undiminished. But our time of standing pat, of protecting narrow interests and putting off unpleasant decisions – that time has surely passed.


Starting today, we must pick ourselves up, dust ourselves off, and begin again the work of remaking America….

You can go to Huffington Post for the remainder.
One of the items in Mr Obama's immediate plans is a trip to the Caribbean, but not Barbados and not for leisure – it is to head for Port-Of-Spain for the 5th Summit of The Americas. The Express' Andy Johnson has some views on the encounter;-
…[Obama's] attendance at the summit is being seen as perhaps the first sign of an expected commitment from him for US re-engagement with Latin American countries making up the bulk of the membership of the Organisation of American States. The OAS is the multilateral body under which the Summit of the Americas is being organised.

With no effective lobby of its own in Washington, the member countries in the English-speaking Caribbean are scrambling for ways to engage with the incoming Obama administration. This after an inaugural US conference on the Caribbean held in the US two years ago and with a considerably lower-keyed follow-up session in New York, USA, last year.

The most tangible announcement from the inaugural conference came from closing remarks by spokesman Dr Denzil Douglas, Prime Minister of St Kitt's-Nevis. He said the conference agreed on finding ways of establishing a West Indian lobby comprising nationals in the diaspora who can help influence policy decisions in Washington on behalf of the Caribbean.
If you recall – Army, SWAT, Police put any Skinhead, Neo-Nazi or KKK factions under heavy manners over in the US since Monday to ensure no tragedy happened during the inauguration. Is is also for security reasons that some poor trees have been mowed down in Trinidad;-
EVERY tree at the Piarco International Airport is scheduled to be cut down to the ground in preparation for the upcoming Summit of the Americas, the Downtown Owners and Merchants Association (DOMA) has revealed.

"Apparently more than 50 trees have already been cut down as of today (yesterday) and we are told that every single tree at the airport is scheduled to be cut down to the ground before the summit," a release from DOMA stated on Saturday.

The Fifth Summit of the Americas is scheduled for three days in April and is expected to be attended by United States President Barack Obama, and the leaders of 33 other nations.

The trees on the airport's compound are deemed to be a risk to the security of these delegates.

"We have been informed that the trees which are in the car-park and at various parts of the airport compound have been deemed to pose a possible security risk for the upcoming Summit of the Americas," the release stated.

However, DOMA said it is "…confused by this development since it had already been publicly announced that the old airport compound was being renovated for the upcoming summit."

On December 30, Minister in the Ministry of Finance, Mariano Browne, revealed that the old southern terminal building of the Piarco Airport is to be refurbished in time for April's summit so it can be used as the "primary entry point" for the Heads of Government and their respective entourages.

"If dignitaries and participants will arrive at the old airport, why then are all the trees at the new airport being cut down?" DOMA questioned in the release.

Mature poui and palm trees are included in the mass cutting down of trees, DOMA said.

And because there are mature trees being affected DOMA questioned why pruning was not considered as a better alternative.

"This could have satisfied the security objectives but still give the trees the opportunity to recover," the release stated.

"We hope that those trees which have not yet been cut down will be spared and that good sense and practical thinking will replace what is obviously a tragedy at Piarco," DOMA stated.