Pop got Rihanna but Jazz got Marisa – Barbadian singer snapped up by North American scout
Marisa Lindsay is moving far thru North America, she is being compared (favourably) with Erykah Badu & Jill Scott – to the point now where she has been signed up for a label according to the Toronto Star –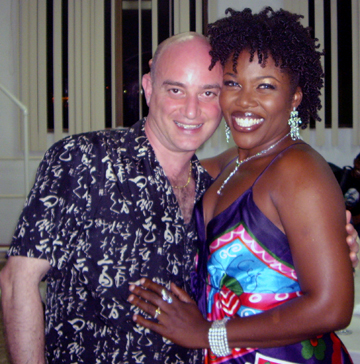 Following a brief appearance at the Barbados Jazz Festival last year, the veteran nightclub singer was approached by visiting Markham musician Eddie Bullen.

"He said: `I want us to work together,'" recalled Lindsay. "I gave him my info and forgot about it."

About four months later, while she was in Toronto on behalf of the Barbados Tourism Authority to perform at a charity ball, Bullen scheduled a meeting to discuss making a record.

However, once they were ensconced in his home studio, the respected keyboardist, arranger and producer, who has worked with Deborah Cox, Glenn Lewis and Fefe Dobson, said he was ready to cut an album then and there.

Three years before that, a chance encounter led her to be able to improve her skills in Havana, which more than likely prepared her for her big break –

With little opportunity for formal music instruction in Barbados, Lindsay fared well with her natural abilities until she unexpectedly landed a patron while playing standards with an acoustic trio in a downtown club in 2004.

"A guy walks into the bar. I'm onstage. When I'm finished, he comes over. `Ever have vocal training?' No. `Ever been to Cuba?' No. `Want to have vocal training in Cuba?' Um … sure.'"

Six weeks later, she left Nathan, then 3, with her mom and met her benefactor, a local attorney, at the Cuban embassy. "His thing was `She's very good, but she could be so much better.' He gave me a wad of cash, a plane ticket, a student visa and said, `Some woman named Lillian will pick you up at the airport.' And off I went, without even a Spanish-English dictionary."

A month of daily piano and vocal lessons at an international music school in Havana followed.

"I had a concept that I could sing, but (my teacher) showed me what I did wrong. Singing is not just the physical aspect, the technique, it's also emotional and spiritual.

"If you're not sure who you are as person, there's a hollowness in your voice. She told me to `Dig. Dig. Dig.' She brought an awareness to my voice."

The vocalist returned home in unprecedented form. "I can't tell you specifically what changed, but there was a difference and I could sing for hours without (losing power)."
But it is not just a Canadian online newspaper that's in love with her, she has earned critical praise in other circles …. such as Breath Of Life, which examines her album "Submit2Love" –
From the moment I heard the opening track, ?What A Difference,? I knew this was something different. I was not instantly in love with it even though I was instantly attracted to it. Marisa?s sound is not soft and fuzzy or overtly sexy or high and pretty, or any of the usual suspects of sound favored by this (and last) season?s crop of twenty-something songbirds.
The reviewer also made a glowing reference to both Marisa and to Ms. Badu –
Marisa Lindsay has my vote as a voice to watch (and not simply a body to gaze at). Some reviewers are referencing Erykah Badu. That?s understandable given Marisa?s keen-edged nasal tone. It is similar to Ms. Badu, but it?s origin is the tonal preference of West African female singers, especially those out of Mali and Senegal. Within the Black music vocal tradition on the contemporary tip we could go backwards from Badu to Esther Phillips to Dinah Washington and Billie Holiday. So in one sense Marisa?s sound is nothing new, but in another sense it?s both traditional and a bit left of today?s norm.

Marisa Lindsay is Barbados born, so rather than over-relying on gospel influences, she adds Caribbean and Brazilian elements to her contemporary jazz-based approach. The result is both familiar and simultaneously unexpected. I know that it is her jazz groundation that attracted me to listen in the first place, but it is her updating of the tradition that keeps me listening….

….I was surprised to hear a young singer tackling fifty-year-old (and older) material. Even more surprising is the fact that this is not a retro-affair. Marisa is not trying to recreate the past. Just like the beboppers flipped swing music or how Trane and Pharoah added Third World influences to bebop, Marisa is moving forward as she simultaneously reaches back. Every song is given a new flavor through a thorough make over. Some I like more than others, but I?m impressed by the direction as a whole.

Moreover, it?s not just the material. Marisa is actually a jazz stylist. Although her Esther Phillips-like R&B influences are obvious, Marisa sings intervals rather than glissandos and melissmas. Instead of just sliding from note to note, or using those churchy worrying-the-note inflections, Ms. Lindsay actually hits individual notes in staccato succession as she climbs up or down a scale.