Gil Scott Heron was right – for Belize, the revolution will not be televised: Parliamentary standoff gears down
Although Gil Scott Heron said it well when "The revolution will not be televised"? I know Billy, that everlasting bard, had just as sizzling a comment on what is happening in Belmopan – then here is how he would have said it best….
To-morrow, and to-morrow, and to-morrow,
Creeps in this petty pace from day to day
To the last syllable of recorded time,
And all our yesterdays have lighted fools
The way to dusty death. Out, out, brief candle!
Life's but a walking shadow, a poor player
That struts and frets his hour upon the stage
And then is heard no more: it is a tale
Told by an idiot, full of sound and fury,
Signifying nothing.

William Shakespeare, "Macbeth", Act 5 scene 5
Greatest English dramatist & poet (1564 – 1616)
It seems all of the sound and fury in Belize has dwindled to a whimper now, Channel Five's Jeanelle Chanona says despite a threat from the Deputy Prime Minister to resign if any further misappropriations occur in their House over there, the streets of the Belizean capital remained calm for the most part (NB: Belize' Creole dialect has been left unedited, it has some similarity to Jamaican patois but more legible) –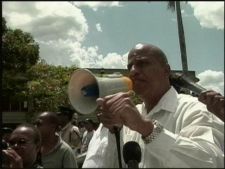 Janelle Chanona, Reporting Barbed wire, strong police presence, and intense heat did little to dampen the celebratory spirit of the thousands of United Democratic Party supporters that congregated on Independence Hill today.

Gaspar Vega, Deputy Party Leader ?We are very happy. We?re very happy, because we have realised and everyone has realised in Belize that the people of Belize have had a victory and this victory is only the beginning of the restoration of our entire country. We have learnt that if we are united and speak with one voice, we will always have the strength to get what the people deserve.?

Joining in today?s protest were hundreds of teachers from across the country. Before heading to the plaza, the educators held a rally at the Belmopan Civic Centre.

Jaime Panti, President, Bze. National Teachers Union ?I want to plead to you not to give this a political twist, because people are trying to over-cloud the issues and they are many underlying factors and underlying issues that we need to get to so that we can make informed and we can actually keep also the Belizean people informed because that?s our moral obligation as teachers. We have that influence.?

According to B.N.T.U. President Jaime Panti, the teachers risked losing a day?s salary to have their say on national issues.

Jaime Panti ?We are always concerned about our children, but we also concerned about our country. We are also concerned about the welfare of all Belizeans, because if our conditions are not in the Best, then education will never be effective.?

Godwin Hulse, Senator, Business Community ?It?s a business like any other business, but they should pay their debt. It is not one for us to pay.? Special guest at the rally was Senator Godwin Hulse, who gave his reaction to the Prime Minister?s statement on the U.H.S. crisis.

Godwin Hulse ?He says, ?Last week I introduced a loan motion in the House of Representatives to settle the Government of Belize debt obligation in relation to the Universal Health Services.? There is no Government of Belize debt Mr. Prime Minister, what part of that you don?t understand? There is no Government of Belize debt with Universal Health Services.?

?The issue was simply that the people of Belize do not feel that our tax money, in already hard times when we are already burdened with ballooning debts that we will be struggling to pay come now and worse in the year 2012, the super bond is the case in point, that an additional hundred and one point five million dollars should be put on our backs for what we did not get and money we did not borrow. That was issue and that is still the issue.? [Applause]

With the House meeting minutes away, the teachers paraded to Independence Plaza. On the hill, the educators joined parents, students, political aspirants, the media, elected representatives, and even a celebrity impersonator. As the morning wore on, the crowd congregated around public address systems and radios broadcasting what was happening inside the House.

Frank Mena, Dangriga Mayor ?If they serious about spending that thirty-three million dollars for Universal, if they serious about finding money to give, then they need to take a close look at the Southern Regional Hospital and see the shortcomings. Our town council has been soliciting and making donations to the Southern Regional Hospital and that?s not directly our responsibility, but we are dealing with our people.?


Protestor #1 ?You read the sign, the sign seh they no born yet, they unborn and they have to pay this money. Twenty, twenty-five years fram now dah they wah pay, maybe we no live fu see, but they wah haffu deh yah fu pay it. We need good governance, stay with the U.D.P. and we wah get good governance. That?s all I got to seh.?

Ravei Gonzalez, Orange Walk Mayor ?Basically I feel the overall atmosphere is that they want the resignation of the Prime Minister.?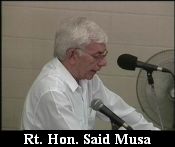 Over at Channel 7, their delivery is that voting will soon be around the corner for Belize –

The crowd was firm but not fighting, standing but not stoning, and committed but not confrontational. And Barrow maintained that they had no reason to be, because it was a celebration. That's what he said as the day started.

Keith Swift Reporting,
The Leader of the Opposition was the first to arrive on Independence Hill at a little after nine in the morning. He was the first to meet with the press and told them why he feels a strong showing on the Hill is vital.

Hon. Dean Barrow,
"We feel that he has to get the message that he no longer has a mandate and that he has to fix the date for general elections."

Jackie Woods, News 5
"Mr. Barrow you've called today's protest as an act of celebration as well as calling on the Prime Minister to call elections now. Yesterday he did mention that nine months is not a long time to wait."

Hon. Dean Barrow,
"Well I think it is far too long to wait. One of the reasons for calling it a celebration though was to try and set a tone in which we could indicate that we are doing our level best to eliminate any possibility of violence. People this morning need to understand there is n absolutely no place for violence in today's demonstration."

Barrow and a team of his representatives, went down to the crowd minutes later where he had an extended press fleshing session and then re-iterated the message of urgency.

Hon. Dean Barrow,
"In the end this is about one thing, the Prime Minister and his government have got to go. You have got to go, call elections now. The man said last night he is not a monster but his behavior is monstrous. If you behave in a monstrous way then you are a monster and the people of this country will get rid of the monster." [Crowd Applauding]

[When] the UDP's were done, new backbenchers Mark Espat and Cordel Hyde came up the Hill and went into the House, where they would choose to take the very last two seats on the back bench.

[After] that, the Prime Minister and his team, all in white came from the Administration Building. Notably he was flanked by his hawks Godfrey Smith and Ralph and Francis Fonseca. As they heard a resounding round of boos, bringing up the far rear guard about 20 paces back was Deputy Prime Minister John Briceno who had threatened to resign earlier in the week. And while he was booed on the outside, inside the House, the PM was greeted with uproarious applause from his supporters in the gallery.

While Opposition supporters held the frontline on the Hill, teachers were rallying nearby inside the Belmopan Civic Center. Senator Godwin Hulse was the main speaker.

Senator Godwin Hulse,
"I want a statement from the government saying we will not use any creative means whatsoever to try to settle this and then argue it wasn't taxpayers' money and it was a grant or some asset we sold or something we did. No public resources shall go to pay for any private debt."

And after that pep walk, the teachers marched over to the Hill chanting their union song.

[Teachers Chanting: 'Solidarity for ever']

Once on the Hill, the teachers joined a crowd of thousands that had flooded Independence Square, the area in front of the police station, and the Belmopan Market Square. The UDP supporters arrived in droves. Some came from as far as Punta Gorda. [One] woman woke up at 3 am and traveled 5 hours to attend today's protest.
There remains a very real possibility of a Cabinet shake-down by Friday, and the Deputy PM may be punished for his threat to resign over the financial scandal and this could be branded as treachery yet not treason in and of itself, if Sa?d Musa does perform some form of victimisation for John Briceno daring to speak his mind – albeit not in tandem with the Prime Minister – Bajan Reporter will have to monitor if this creates more sparks for the Opposition, Unions and objectors to roam the streets demanding elections…
Maybe Barbadians will plough 35 million into Belmopan farming and livestock after all, then again, most Barbadian land now is sent for housing, and sometimes for local ppl too…